School-Wide Positive Behaviour Support teaches behaviour expectations and rewards students for following these expectations. It provides a safe and predictable environment and establishes a positive classroom climate that improves learning outcomes.
SWPBS ensures success – socially, emotionally and academically. This is achieved through its preventive and proactive approach in encouraging positive behaviour by defining specific behaviours we want to see, aligned to our core values of Respect, Responsibility and Resilience.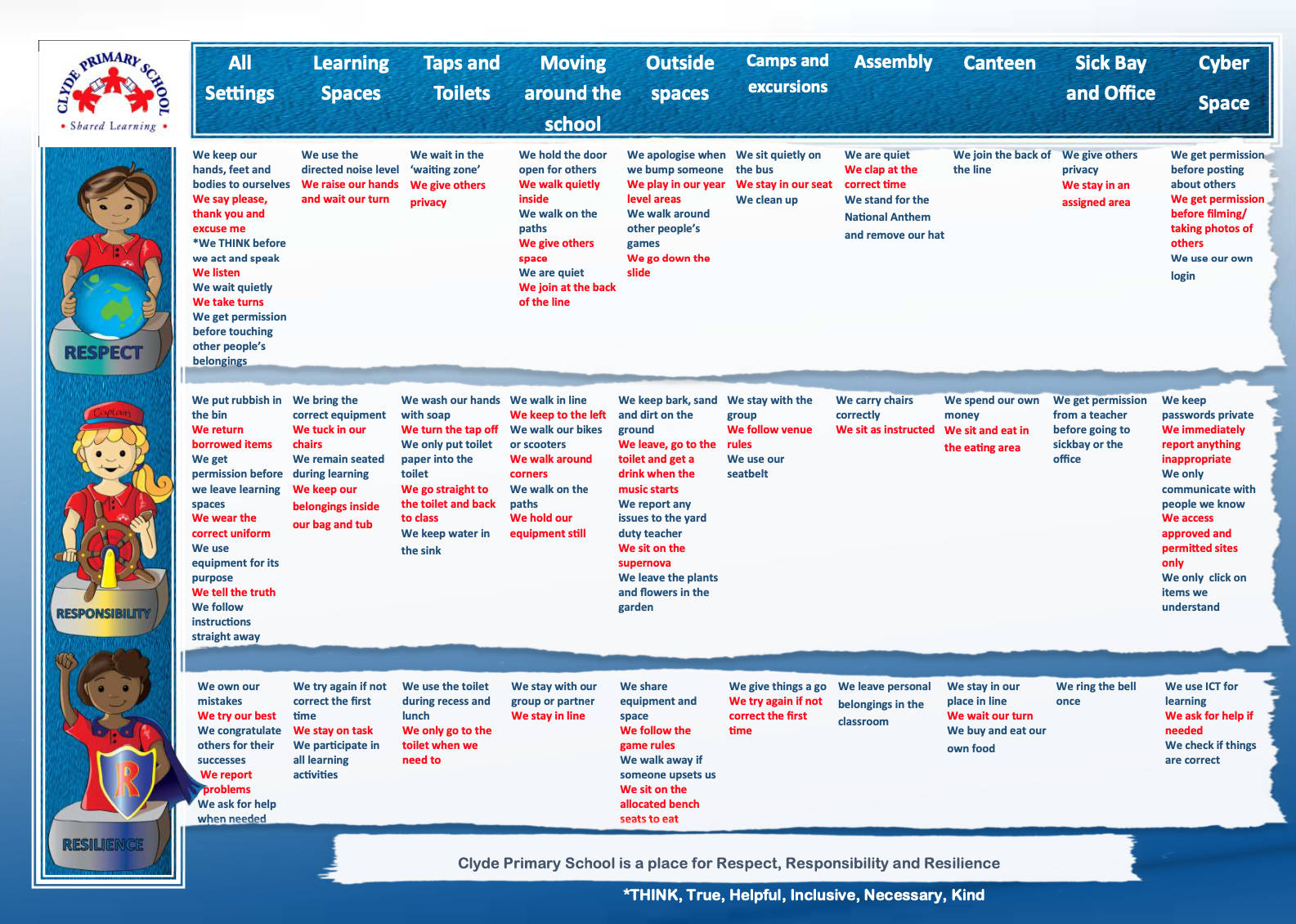 Restorative Practices:
At Clyde Primary School we take a restorative approach to behaviour and or friendship issues. Restorative Practice is a strategy that seeks to repair relationships that have been damaged, including those damaged through bullying. It does this by bringing about a sense of remorse and restorative action on the part of the offender and forgiveness by the victim. At Clyde Primary School, we follow the clear script below, when completing a restorative discussion.
Clyde Primary School Restorative Conversation Script
To the person(s) who caused harm:
We're here to talk about ……..
Can you tell us what happened?
What were you thinking? What was in your head/in your mind?
Was it the right/wrong thing to do?
Who has been affected/upset/harmed by your actions?
In what ways?
How has this affected you?
To the person(s) harmed:
What did you think when it happened?
What have you thought about since?
How has it affected/upset/hurt/harmed you?
What has been the worst thing?
What is needed to make it right/to make you feel better?
To the person who caused harm:
Is that fair? Can you do that?
What else do you need to do to make things better? How can you fix this?
To the person harmed:
Is that okay /do you agree?
Is that fair?
To both:
How can we make sure this doesn't happen again?
Is there anything I can do to help?
Is there anything else you would like to say?
Formally record agreement/congratulate them for working it out.
Arrange time to follow-up.
Meet again to see how things are going.
Clyde Primary School's commitment to Child Safety
Clyde Primary School is committed to safety and wellbeing of all children and young people, and has a zero tolerance for child abuse.
Clyde Primary School is committed to providing a safe environment where children and young people are safe, and their voices are heard about decisions that affect their lives. Particular attention will be paid to the cultural safety of Aboriginal children and children from culturally and/or linguistically diverse backgrounds, as well as the safety of children with a disability.
Every person involved in Clyde Primary School has a responsibility to understand the important and specific role he/she plays individually and collectively to ensure that the wellbeing and safety of all children and young people is at the forefront of all they do and every decision they make.
For further details or to read our complete Child Safe Policy please refer to the policies section.